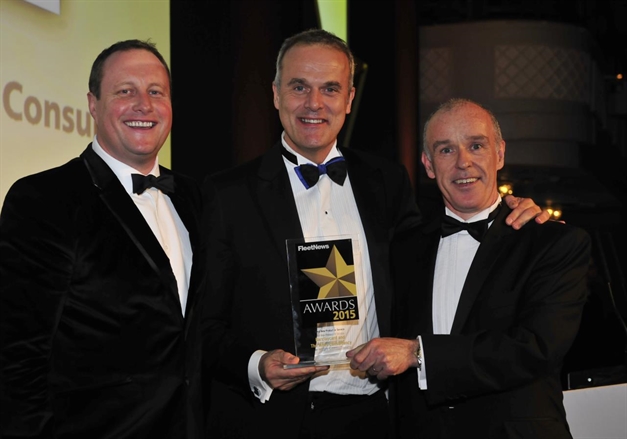 Fuel+, the game-changing fleet fuel solution from TMC and Barclaycard, took the trophy for Best New Product at the 2015 Fleet News Awards last night.
Praised for bringing new levels of functionality and opening up the fuel card market to much-needed competition, Fuel+ was chosen over shortlisted entries from Halfords, Inchcape Fleet Solutions, Masternaut, PointSoftware and SmartWitness.
John Pryor, chairman of the Association of Car Fleet Operators, presented the award to TMC managing director, Paul Jackson, and Barclaycard account development director, John Bostock.
Paul Jackson said: "We're truly delighted to win this award, recognising that Fuel+ offers a truly innovative alternative to the rest of the UK market. It really is a game-changer in that Fuel+ is the first bank-owned solution to enter into the UK and European fuel card markets to provide more competition."
Fuel+ uses cutting-edge technology to calculate mileage and spot fraud which all contributes to the overall savings and VAT compliance. It allows fleets for the first time to acquire fuel via a secure chip & PIN-verified purchasing platform, operated by globally recognised provider of corporate expense payment services, with seamlessly integrated Mileage Capture and Audit.
Fuel+ is also the only fuel card on the UK market that offers guaranteed cost savings alongside indemnity for customers against misuse by their cardholders.
Paul Jackson added: "Moreover, Fuel+ is a fully-scalable fuel solution. Fleets can use it as a basic chip & PIN-secured fuel purchasing capability with easy mileage logging and straightforward consolidated, VAT-approved invoices. Fleets with more complex needs can implement Fuel+ as a total fuel purchasing and management solution for cars and LCVs, offering comprehensive management information and analysis, proactively-audited Mileage Capture and processing of expenses."