We were absolutely delighted to be awarded the Motor Finance Award for Digital Innovation of the Year.
The Judges has this to say about Mobility+: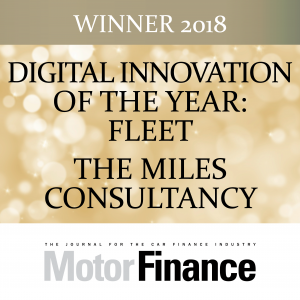 "This year's winner took a real industry problem and came up with an effective solution. This solution was quite out there, first to market and a good example of joined up thinking. Judges were also impressed with how this innovation is applicable across borders."
Mobility+ brings together data from all suppliers involved in business travel – leasing companies, fuel card and telematics providers, accident management providers, payroll data and expenses systems – and overlays it with employee data to provide a single view of costs associated with business travel.
Mobility+ provides companies with a single view of costs and a 360-degree view of each employee's business travel patterns.
Based on these patterns, we can make recommendations for optimising mobility at both company and individual level.  Recommendations include who should or shouldn't be eligible for a company car; who could be in electric vehicles; who could be car sharing, and where it could be more cost-effective to give someone a transportation allowance rather than a conventional car or cash allowance.
The service is Pan European and helps businesses to optimise their mobility mix and manage their Total Cost of Mobility.
Jonathan Minter, Editor of Motor Finance also said:
"The quality of the nominees entering this year's Motor Finance Awards was extremely impressive. The competition in the categories was extremely tight, and I would like to personally congratulate all of the finalists, as well as the category winners."
If you'd like to find out more about our award winning Mobility+ service, click here, or if you'd like to chat to someone about how it could help your business, we'd love to hear from you.