Reimbursement
We make reimbursement of domestic, office and public charging simple. Our own TMC EV Rate is a viable AER alternative.
Public Charging
TMC offer an EV charge card that can be used at 92% of the UK's public charge points.
E-Feasibility
We assess the feasibility of electric vehicles based on each vehicle's journeys.
EV Reporting
We help with the implementation and ongoing analysis of electric vehicles.
Compliance+. The Next Generation Occupational Road Risk Programme
Find out how we can help you manage your occupational road risk and fulfil your duty of care requirements.
EV Charging and Running Costs
What are the new findings?
New TMC data
The cost per mile of Tesla Model 3 with current state of public charging exceeds 8p AER
Mobility iQ: Development Hub Advisory Board
Industry leaders and decision makers come together to form TMC's Mobility iQ advisory board
AER increase: is 8p enough?
Does the jump from 5p to 8p solve the problem?
Mobility iQ: Cost Study
How can you reduce costs across ground transport and travel program?
Mobility iQ: Carbon Study
Reduce carbon through modal shift
Are you aware of the Irish BIK rule changes from January 2023?
Get up to speed!
New TMC data: EV Running Costs
How does the 5p AER look based on current energy prices?
'Mr Mobility' Stuart Donnelly joins TMC
Ready for Mobility iQ journey
New HMRC rates
The AFR update for the next quarter
Edrington UK appoints TMC for another three years
Continuing with Mileage Capture but now with an added layer of Compliance!
Don't plug in without a process for home charging
Read the latest insight from TMC to understand the risks and what you need to do before adding electric vehicles to your fleet.
Electric vehicles: The shocking cost of mismanaged charging
Would you sanction a charging cost that was 10 times greater than necessary?
Jacobs Douwe Egberts partner with TMC
TMC will assist in EV transition, mileage capture and more!
TMC announce new Fleet+ service
The software specifically for fleet managers
Advisory Electric Rate Increased
New research shows that vans continue to be short-changed despite the rise from 4p to 5p
Latest News from TMC
ALD Automotive and The Miles Consultancy launch Global Fleet Inventory reporting services
Our Industry Leading Mileage Track App
We use the device's in-built accelerometer, gyroscope and GPS to gather telemetry data, including harsh braking, cornering, speeding events and using your phone whilst driving. Calls made via Bluetooth won't be counted as a distraction factor.
From the data the app gives us, we create detailed reports to highlight high risk drivers, the cost savings made, and demonstrate cost saving potentials. The app also includes an interactive dashboard which can show driver scoring on a trip by trip basis.
The app makes it easy and seamless for employees to upload and complete all of the required occupational road risk and duty of care documentation.
GPS is used to track journeys and load them directly into the mileage capture system.
Savings Calculator
Cars - Fuelcard with private deduction
Cars - Fully expensed fuel
Cars - Fuelcard with private deduction
Cars - Fully expensed fuel
*Savings shown on the calculator are annual
Check out our new app, TMC-e!
Do you know which employees could move into an electric vehicle with no range issues at all?
Or which employees could have a charging unit installed at their home?
The TMC-e app provides the answers to these two crucial questions, to help you electrify your fleet successfully.
TMC-e tracks drivers' journeys via GPS and asks questions about the users' living arrangements to assess the potential for home charging.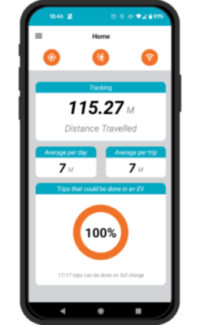 TMC International
Highlighted in orange is where our current clients are based. We have offices based in the UK and Amsterdam.
TMC have made a tremendous difference to Nobia's fuel management. Their solution delivered a saving straight away. There is much less administration for us thanks to their outbound driver support. We've completely changed our expectations in this area of fleet management.

TRACY BARKER, NOBIA
From a practical point of view, our fleet is more efficient now. We can see where the vehicles are being utilised, mpg has increased, saving us £475,000 in fuel and we are doing less mileage.

Peter Kelly, Elis
The increasing complexity of our fleet made management of mileage and fuel in-house more and more time consuming. Using our new TMC solution has freed up a lot of time and enabled us to be more strategic to ensure we maximise the efficiency of our fleet. It's good to be working with TMC again.

Adam Bench, Telent
I chose the licence checking service from TMC because we already use the fuel card and trip entry solution they provide. The licence checking serviced represented value for money and has helped me combine two previously separate recording systems.

Mary Riley, Krones
We wanted a licence checking system that could run completely online and replaced cumbersome and time-consuming paper-based administration. Because of this, TMC's web-based portal seemed like the perfect fit for us. We also liked how TMC's solution could link up to our payroll and ensure that claims would be restricted for any driver who hadn't completed their checks.

Maria Tanev, Kao