We're delighted that TMC's driver verification solution, Visa To Drive, won the award for innovation in driver management at the Fleet World Honours 2016 ceremony in London.
Recognising Visa To Drive's ground-breaking features, the Fleet World Honours judges said:
"Ensuring employees have all the necessary documentation, insurance and certification is a headache for fleets. Visa To Drive cleverly integrates checking of all those areas, and can even refuse expense claims if a driver is not compliant."
"The result is a robust audit trail, with the ability to positively influence driver behaviour and reduce costs."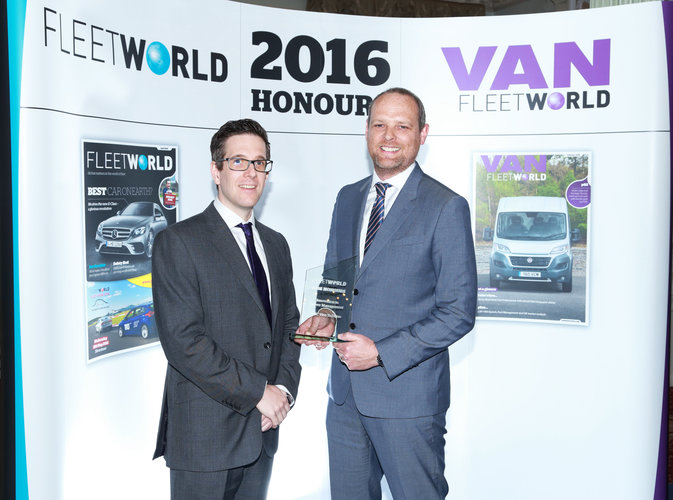 TMC Managing Director, Paul Hollick, pictured receiving the award from Fleet World Deputy Editor, Alex Grant, said:
"Visa To Drive's new approach stems from TMC's insight that mileage reporting and Duty of Care are a perfect fit. Virtually every business journey results in a mileage expense claim, especially for grey fleet drivers. Visa To Drive injects Duty of Care tools into the one mechanism that every driver is virtually guaranteed to use."
Because it is part and parcel of their mileage system, clients can – uniquely – configure Visa to Drive to prevent automatic payment of expenses if drivers do not record that they are complying with company policy around vehicle use and at-work road safety.
"That is a strong incentive for drivers to make sure they keep their cars roadworthy and documentation up-to-date," added Paul.
Presented at The Royal Automobile Club, Pall Mall, the Fleet World Honours focus on innovation amongst fleet supplier as well as awarding fleet managers excelling in the areas of Environment, Safety and Management.
About Visa To Drive
Visa To Drive offers companies a comprehensive suite of options for verifying Duty of Care-related documentation. These include DVLA driver licence verification and checks for valid insurance policies, MOT certificates and vehicle service histories.
The solution is highly configurable, allowing clients to tailor it to their policies and align levels of intervention to different groups of drivers. It can be pared down to include just driving licence checks and confirmation of consent to fleet policy. Moving up a level, fleets can specify that drivers must confirm that they carry out vehicle safety checks at specified intervals.
Grey fleet operators can make use Visa to Drive's full suite of checks to ensure that all vehicles are roadworthy and employees are legally allowed to drive. It enables employees to easily upload scans or photos of MOT certificates and personal motor insurance policies to their TMC account, in the same way as TMC stores fuel and expense receipts for clients.