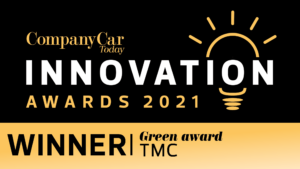 We are delighted to have won the Company Car Today Innovation Green Award for our TMC-e service.
"TMC impressed the judges with its all-encompassing approach to easing the move to electric vehicles, with the reimbursement tools a particular favourite" said Company Car Today Editor Paul Barker. "The subject of reimbursement for electric charging is a hot one, and something fleet managers are short on answers for, so the TMC solution is a valuable one."
Congratulations to all other award winners.
To find out more about our *award winning* TMC-e service click here.