By Paul Hollick.
Two-wheeled LCVs probably sound a pretty niche proposition right now. But if government thinking is correct, we should expect electric bikes and trikes to play an increasing role with urban delivery and service fleets in the next few years.
The wide-ranging Urban Mobility Strategy report just unveiled by the government says new regulations for 'micromobility vehicles' will be a priority. I really recommend reading the report, which has implications for every business that operates cars and commercial vehicles.
'Last mile' vehicle movements must be a key focus for urban mobility policy. Though urban distribution accounts for only six percent of total commercial mileage in the UK, the very nature of last mile activity makes negative impacts like pollution and congestion highly visible and widely-experienced.
Electric versions of conventional LCVs are already proving themselves in urban delivery roles. But the government wants businesses to go further by using micromobility vehicles – e.g. beefed-up cargo-carrying electric bikes or three-wheelers – where possible.
Last year, the DfT and Sainsbury's ran a pilot project in North London using e-cargo bikes to deliver online shopping orders. It found that 96% of orders could be fulfilled by a single cargo-bike drop.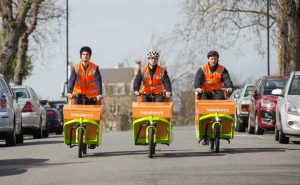 The bikes used in the trial had a load capacity of 480 litres and a payload of 125 kg. Moreover, the trial found they were 55% faster than four-wheelers in traffic – managing 12.4 mph compared to the London average of under 8 mph.
With the government offering firms up to £1,000 per unit towards the cost of buying e-cargo bikes, there's already a cash incentive for urban fleets to try them out. Other attractive attributes include very low costs of maintenance and charging, and little need for full on-board telematics. Riders could easily track their trips and locations using TMC's Mobile App or a similar utility.
However, I can also foresee many companies hesitating before becoming early adopters. There are still many unanswered practical questions around insurance, training, tax and duty of care (people might think the rider in DfT's own promo video for the cargo bike grant scheme should be wearing a helmet, for instance).
Sensibly, the government is making micromobility a priority for its ongoing review of mobility regulations
There's also the fact that research shows that the majority of urban LCVs are used to deliver services, not goods. About the same number of urban vans are privately owned, e.g. by self-employed tradesmen, as by businesses. Quite apart from practical considerations, will an e-cargo bike's seat compare with the cab of a van as a location for the ritual coffee and sandwich break? Probably not!
Even so, London's toxicity charge is now in force and more Clean Air Zones are in the pipeline. It certainly looks as if urban last mile journeys will see major changes in the next few years. Those changes will doubtless see more fleets making a business case for micromobility vehicles, as well as implementing new polices and data-capture methods to manage them and their riders/drivers.