To help fleet managers get off to a good start this year, TMC are publishing a three part series of New Year's resolutions that will help drive down costs and optimise performance across fleets. (Catch up with part 1 here) In this post we look at the key considerations when adopting a fuel card.
Resolution two: Why not switch to a cost effective fuel card?
Fuel cards are definitely the most efficient way of purchasing and managing your fuel spend.
However, the value for money gained from fuel cards varies wildly between providers. If you have opted for a fuel card that's tied to a particular brand of oil then your drivers will be making detours to find a suitable filling station. Over the course of the year this will massively inflate your fuel bill.
There are other elements that will also drive up your fuel card bill such as transaction charges, eco-contributions and hidden risk premiums. And whilst fuel rebates may seem like a good reason to use a particular fuel card, volume-related rebates might not always save money. For starters, it is easy to spot the glaring logical flaw in the idea that "the more you spend, the more you save". That one is up there with "eat yourself thin". You're also likely to find that only big fuel users get offered a really worthwhile-sounding rebate.
How TMC can help
TMC have come together with Barclaycard to develop a total mobility purchasing solution called Fuel+. The card has a number of game changing features which will enable you to reduce your fuel costs, combat fraud and consolidate all mobility purchases.
Key features of the Fuel+ card
No transaction charges – Unlike other fuel cards, Fuel+ comes with no transaction charges which significantly reduces your overall fuel spend.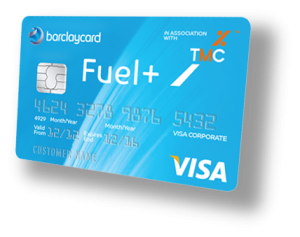 Global VISA acceptance – Fuel+ is the first fuel card to use a payment processer with global acceptance. The card is accepted at over 98% of UK filling stations which means that drivers no longer need to take detours to find a filling station that accepts their card.
Enhanced anti-fraud measures – Unlike older magnetic strip fuel cards, Fuel+ is chip and pin enabled giving it enhanced security, reducing the risk of fraud. In the event that the card is misused it comes with £1 million indemnity as standard which will give you piece of mind that you are covered from every angle.
Consolidated mobility purchasing – Fuel+ enables you to bring together all your mobility purchasing into one platform. The card is completely flexible and can be opened up to pay for hotels, public transport, tolls, parking as well as other mobility costs.
Find out more
Implementing a fuel card is quick win for fleet managers that want to gain complete control of their fuel spend and start driving down costs. To learn more about how the Fuel+ card can be used to deliver savings in your business please call us on 01270 525 218 or email us at [email protected]. 
Next week
In the last of our three part series we will explore how paying for employee's private fuel may not be beneficial for either your company or your employees. To be notified when its published make sure you follow our linkedin page.