TMC's brand new app, TMC-e, has been designed to help businesses electrify their fleets with confidence.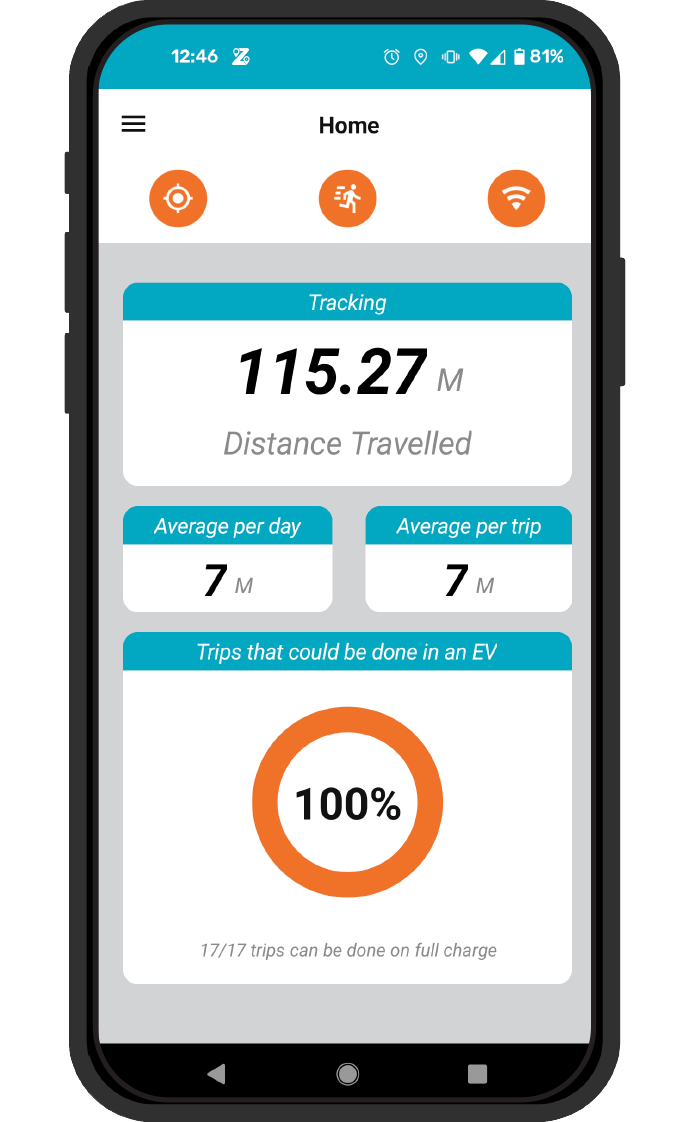 TMC-e tracks drivers' journeys via GPS to assess whether an electric vehicle would work for them. No hardware required!
The app enables businesses to identify drivers who could switch to an electric vehicle with immediate effect. As a result, fleets can benefit from reduced running costs and carbon emissions.
By collating real world data, we take the uncertainty out of the electrification of fleets.
In addition to collating information on the journeys, the TMC-e app asks the driver a series of short questions such as whether they own or rent their home and do they have a driveway, to assess whether a home charging point could be installed.
The app also captures information about the user's current energy supplier to calculate the expected cost per mile should the driver move to an electric vehicle.
The end result is a list of drivers who are compatible with an electric vehicle, with the supporting data behind it to give peace of mind to both employer and employee that an electric vehicle would work for them.
Setting up the TMC-e app
The TMC-e app requires minimal intervention by the driver and is simple to set up.
The app simply runs in the background and kicks in once the user starts driving.
Drivers can choose when the app records their journeys. They can select certain days/times,                                or they can set it to track all journeys automatically via GPS.
Users have the option to categorise journeys as business or private. They can also indicate whether they could have easily charged up on route.
The journeys are colour coded – orange shows the journey could have been on one full charge. Teal shows a business trip and grey a private trip.
We suggest the app is used for a minimum period of three months to achieve an accurate and representative trip profile.
Reporting
All information is collated and reported back to both the driver and business.
The clear and concise driver dashboard on the app provides a real time summary of the journeys and shows the percentage of journeys that could be done on one full electric charge.
The driver is also emailed a summary of these stats periodically.
Sharing this information with the driver enables them to see for themselves how compatible they are with an electric vehicle and reduces possible resistance or range anxiety should their next vehicle be electric.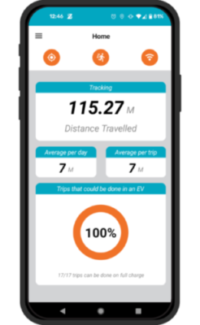 The business can review the output via an online fleet dashboard that provides an overview of the whole fleet and includes all the information on each driver, including the answers to the questions about their living arrangements and electricity costs. This information enables you to assess the feasibility of electric vehicles based on real world information.
Using the drivers' electric tariff information, we can also estimate their expected real-world cost per mile in an electric vehicle and compare this to the average cost per mile of their current vehicle.
TMC can provide a list of recommended vehicles suitable for each driver based on their profile.
Electrifying your fleet can seem like a daunting task, but we can help your business, and your drivers, make the switch with confidence.