Mileage Track is our industry leading mobile app.
With Mileage Track, we use GPS to track journeys and load them directly into the mileage capture system. With no need to connect to a PC, and with the ability to upload fuel receipts by taking a photo through the device's camera, logging mileage couldn't be easier for your drivers.
Mileage Track App Brochure
Our industry leading app which makes tracking your mileage simple.
Download
Driver Behaviour Scoring
Driver behaviour scoring is an additional functionality that we can activate on the app. This function enables a dashboard which demonstrates driver scores.
We use the device's in-built accelerometer, gyroscope and GPS to gather telemetry data.
For the scores, an average is created from all the scores of the individual trips.
Colour coded scoring shows either 'excellent', 'average' or 'could do better'. These scores consist of 3 marks from 1 to 100 and are are made up of:
Speeding
Harsh Braking
Phone Useage (not including Bluetooth calls)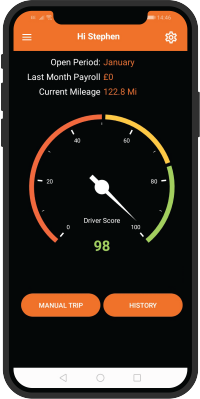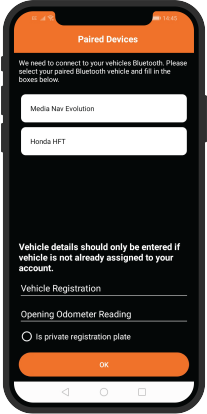 Auto Track
Our app includes 'Auto Track' functionality, which means if the device and app is paired with the vehicle via Bluetooth, this will allow the automatic tracking of the driver's journey.
The journey is detected by the connection of the device and app to the vehicle's in-car Bluetooth and movement of the phone being above human speed.
The driver can also adjust the settings of the Auto Track function, by adding their working days and hours. This will ensure the device does not track them during these set times.
Trip Classification
By using the app drivers can view the history of their trips and how they performed on each journey.
Drivers can also reclassify trips as commutes or private mileage.
Multiple trips recorded within a single journey can be merged prior to submission (e.g. stopping for fuel on a long trip), ensuring logging your mileage is simple, clear and straightforward.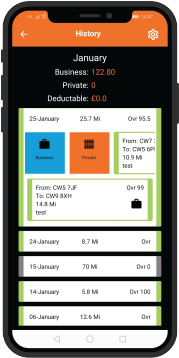 Compliance+
The app also links with our Compliance+ service, making it easy and seamless for employees to upload and complete all of the required occupational road risk and duty of care documentation.
Using the app, drivers are able to input their own or their nominated driver's licence details to initiate a driving licence check, upload their insurance documents, and complete their vehicle safety checks and risk assessments. MOT details are automatically checked online with the DVLA
Use the app with our award winning Mileage Capture and Audit service.